Taz Technologies, a Kenyan steadily growing and innovative ICT company based in Nairobi has announced expansion plans to four African countries.
Taz Technologies is the firm behind the famous digital mail service dubbed M-Post that was launched in Kenya in 2016.
MPost
MPost is a patented technology enabling any mobile phone user to transform their phones into a unique mobile postal box, and access postal services
Through a configuration of exclusive partnerships with national postal services around the world, users can register themselves with Mpost to send, receive mails and parcels.
MPost also enables users to pay for goods and services and to send, receive monies via e-banking services.
After the success of MPost in Kenya, Taz Technologies now says it hopes to launch services in South Africa, Uganda, Burundi and Rwanda.
This is as the firm looks to tap into the growing regional e-commerce market.
Also Read: West Africa to fully adopt cleaner fuels and vehicles by 2025
According to the firms's Chief Executive Twahir Mohamed, Taz Tech is in the final stages of completing agreements with several postal corporations in the region with plans to launch by the end of this year.
"We have already closed an agreement with Uganda, and we are currently in talks with the South African Post Office, with the potential of having an agreement by the end of the year," said Mr Mohamed.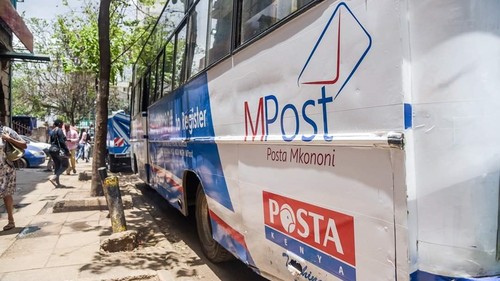 Speaking during an event organised by the International Trade Centre, a joint agency of the United Nations and the World Trade Organisation that sought to explore opportunities for local firms under the Africa Continental Free Trade Area, Mr Mohamed said they are also in the final stages of their deliberations with Rwanda and Burundi.
How MPost works
Launched in 2016, MPost has developed a mobile platform that converts a user's mobile phone number into official virtual addresses.
Users register by mobile and web app, or by dialing a USSD number, and are then taken through an identification process. After payment of an upfront US$3 registration fee, they are given their own virtual postal address.
With this new virtual address, when a user receives mail at their chosen post office, a unique QR-coded stamp is generated, and the user is sent an SMS notification letting them know that they can pick up their letters or parcels, or even have them couriered to their exact location for an additional fee.
MPost success
An early deal with the Postal Corporation of Kenya gave it access to 40,000 potential customers. A further agreement with a leading Kenyan mobile operator, Safaricom, gave the mobile company's 33 million customers the ability to register for an MPost address via a dedicated USSD code provided by the firm.
Growth
The startup is still targeting significant growth and took part in the Startupbootcamp AfriTech accelerator program in Cape Town in 2018, which provided it with a small amount of investment but contributed in other ways to speeding up its funding journey.
In December 2019, MPost raised a US$1.9 million Series A round, which featured investors from South Africa, Australia, Japan, the US, Canada and Nigeria. Investors included blue-chip institutions, VC funds, and high-net-worth individuals.
MPost CEO Abdulaziz (Aziz) Omar said the investment was secured to further develop MPost's proprietary technology platform and operations.
Covid-19
The coming of the Covid-19 pandemic had temporarily affected the startup's plans to expand into the rest of the East African region, and later the rest of the continent.
The funding raised in 2019 was partly earmarked for the course.
Also Read: AFSIC 2021- What to expect from this year's investing in Africa conference
"We were just about to begin our East Africa expansion plan when COVID happened," Omar said in an interview with one of the leading local dailies last year.
South African VC firm HAVAÍC, which provided the company with pre-Series A funding and helped it raise its last round, is intimately involved with Omar and the MPost team, and believes it will go far.