Blippi, a famous you tuber whose real name is Stevin John, was born on May 27; 1988.He was born in Ellensburg, Washington, U.S.
He is an American kid's entertainer and educator who help children to learn about colours, shapes, numbers, letters and so many other things. He owns basically a fun educational youtube channel.
John's wish was to be a limousine driver and a pilot. He served as a loadmaster for the C-17 Globe master airplane at the 4th Airlift Squadron in the United States air force.
He started his career as Blippi in 2014 and become the most loveable character.
Read: Othman Benjelloun | Africa's Billionaires | Net Worth | Personal Life
Preview
| | |
| --- | --- |
| Real name: |  Stevin john |
| Character name: | Blippi |
| Source of wealth: | you-tubing, social media |
| Age: | 33 years old |
| Birthplace: | Ellensburg, Washington, U.S. |
| Height: |  6.6 feet/ 1.57 m. |
| Nationality: |  American |
| Date of birth: | May 27, 1988 |
| Occupation: | kids entertainer, you tuber |
| Marital status: | unmarried |
Stevin John
Stevin W. John (born May 27, 1988), known for alias Blippi, is an American children's entertainer and educator on YouTube, Hulu, Netflix, HBO Max, and Amazon Prime Video. The Blippi character that John portrays has a childlike, energetic, and curious personality, and is always dressed in a blue and orange beanie cap, blue shirt, orange suspenders, and an orange bow tie
Stevin John Net worth / Achievement
As of 2021, the estimated net worth of Blippi is $40 million.
Today, Blippi comes in the list of top youtube stars, has all the resources to move with the world of social media, and always tries to target his audience with his personalized stuff.
As we can see this is already in progress Moonbug Entertainment ltd, and Amazon kids+ collaborating with Blippi for creating content with a long-term episodic series for entertainment and education purposes and this content only target kids for their education.
As the advertisers for Blippi are going high and from his channel, he is getting the revenue over $18000 per day.
On youtube and Amazon, he is best known for his personalized stuff. He was titled one of the highest-paid youtube stars on the planet and reported an earning of $17 million, in 2020.
He published his very first video in 2014 and after that, he has sold Blippi DVDs and toys.
His videos always had been on the 100th position in the Amazon.
One program is there on YouTube where Google prefers some of the most popular channels or shows that are being published. In that program, his channel ranked in the 5th position which was the pride and success of him and his team.
Highlights
Blippi learns about general animals (309 million+ views )
3 million+ subscribers
8 billion+ total views
Blippi Personal life
Stevin John spends his childhood with tractors, cows, and horses and grew up with these, in Ellensburg, Washington. His parents are not mentioned anywhere and he never went to college only what we know is that he served in the military.
He served in the United States air force as loadmaster, as he wished to be. He is a military veteran also. But now he is best known by his profession which is you tubing and known as Blippi.
He is recently engaged to Alyssa Ingham: 'Excited to spend rest of my life with you.
Blippi actor Stevin wrote on Instagram "I got upgraded from boyfriend to fiancé"
Blippi is a very hardworking and dedicated person. He became the most successful when children started to like him and got fame, especially from kids.
Blippi Career
Let's talk about Stevin john as being Blippi.
Blippi idea came from his 2 years old nephew after moving back to Ellensburg. His nephew was viewing a low-quality video on youtube and thought that he can do something like this.
When he was in the air force, at that time he was going to perform the calculations and also plan the cargo placements to keep the aircraft within a centre of gravity limits throughout the plane. And he reached the most searched and viewed personality on youtube.
Because of this, he was liked by a lot of people after that what videos he posts get more likes, he is becoming high by this and going viral all over the world.
He decided to perform the Blippi character on the road which helps children to have a real look at Blippi.
He decided to reach his audience through every possible platform. Like televisions, movies, live shows, and through the new media. He has a channel on YouTube, Hulu, and Amazon videos.
In 2013, he began making gross-out videos clip, after it john created the videos like 'underwear man' and 'turdboy' which become the most liked videos. There was a meme performed by Blippi, the "Harlem Shake" went viral in 2013.
In 2014, he published his first video as Blippi. In which Stevin John was playing the role of Blippi and at that time he was doing all the editing by his self, and that was the first show hit by children.
His inspiration was Mr. Rogers who is a child educator and entertainer and because of him, he wished to be Blippi for educational entertainment.
He decided to perform the song with study stuff to make understand very easily for his audience. And that's how children like him.
Blippi defines himself as a childlike, energetic, and curious person who carries a very funny look (orange suspenders and beanie cap bow ties), which is attractive, and children like it. When he started to get viral and started to get a billion views, he started to expand his production staff. His staff began to produce videos in other languages like Spanish, Portuguese, German, and Arabic.
His channel mostly attracts children of 2 to 7 years old.
"I believe that children are so smart and have good intuition."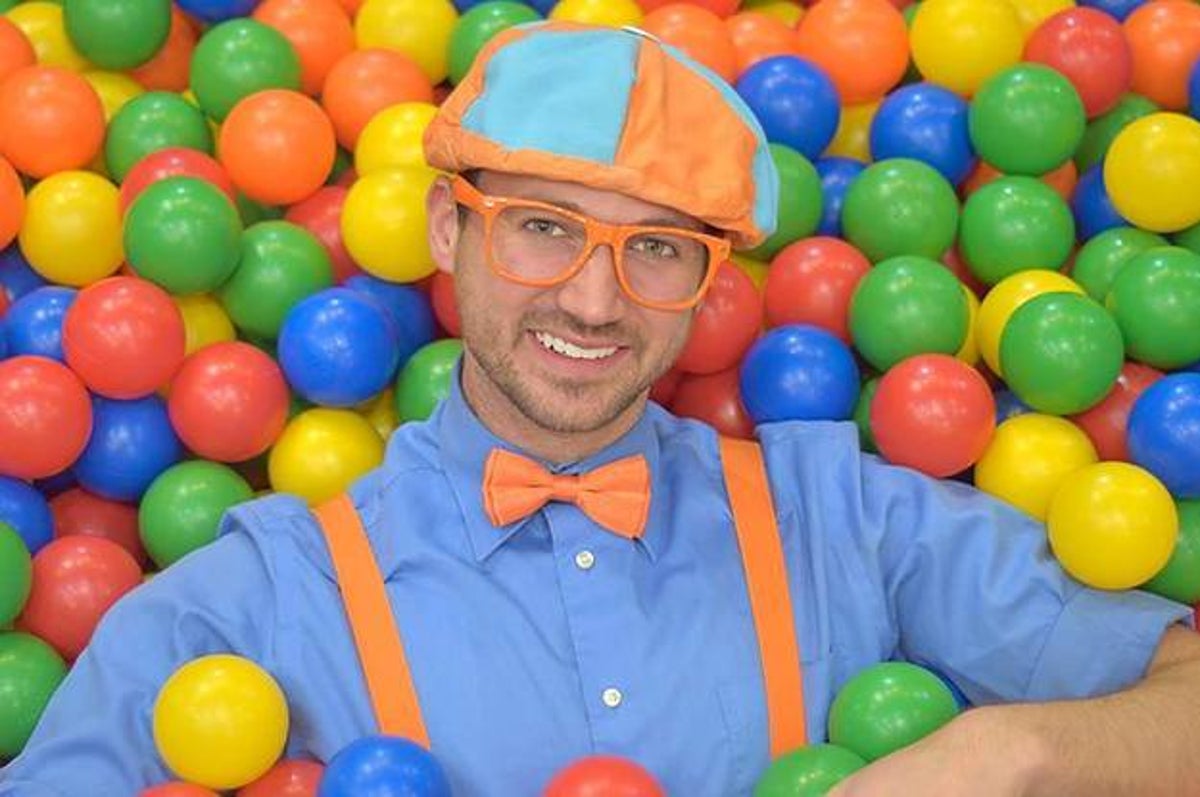 FAQ related to Blippi
Who is the actor that plays Blippi?
 Stevin John is the creator of Blippi and he plays the role of it.
Who is moon bug?
Moon bug is a global entertainment company and Blippi is now part of it.
Where does Blippi live?
Blippi's headquarter is located in Las Vegas, NV. Blippi lives in Las Vegas with team members.
Is Blippi on Netflix?
No, Blippi is currently not on Netflix.
What kind of videos does Blippi publish?
it is a fun educational channel that publishes funny videos to educate children.
      6. How many kids does Blippi have?
In 2014, Stevin John created the character of Blippi to teach children in a fun and innovative way. Clad in his iconic blue and orange outfit, he continues to educate over 20 million combined YouTube subscribers as he makes learning fun!
Read: Strive Masiyiwa | Net Worth | Personal Life Details