In February, Nigeria dominated most tech news outlets following the ban on the trading of cryptocurrencies which triggered anger among Nigerians seeing cryptos as a safe haven in the populous economy.
The West African nation is the world's second-largest Bitcoin market after the United States and despite this, the Central Bank of Nigeria (CBN) is cracking down on the trade of cryptocurrencies. 
Cryptocurrency technology is decentralized and no government, company, or person controls it.
In the crackdown directive on February 5, CBN ordered commercial banks and other financial institutions to close accounts transacting with cryptocurrency exchanges.  A week later, Bitcoin's value doubled. 
While the CBN has not clearly stated its reasons for the crackdown, the reality on the ground is that Africa's giant economy is facing dollar shortages following the sharp decline in oil prices which is Nigeria's main export.  
Due to the currency shortage, Nigeria's banks are restricting transactions with hard currency limiting customers to withdrawing less than US$100. With such limitations, Nigerians are looking for a way to move around the restrictions set by financial institutions. 
With the potential that Bitcoin and other cryptocurrencies have in liberating and reviving economies, Nigeria's ban goes against the grain of tech innovations which are helping pull millions out of poverty. 
In 2018, the UN was projecting that cryptocurrency was a disruptive innovation that will blossom on the continent since it is not bound by geography. 
The world's big cryptocurrency brands include Bitcoin, Litecoin, XRP, Dash, Lisk and Monero, but Bitcoin has stolen the show in Africa. While its creator is not yet known, those investing in Bitcoin hope it becomes the new mode of financial transaction in the digital age. 
According to the World Bank, some of the countries that are among the main Bitcoin economies in Africa are South Sudan whose inflation rate was 102 per cent between September 2016 and September 2017. Other countries with double-digit inflation rates in 2018 included Egypt, Ghana, Malawi, Mozambique, Nigeria, Zambia and Zimbabwe. It is no surprise then that these countries have turned to Bitcoin to escape inflation.  
To show why Bitcoin is becoming the preferred currency option, Zimbabweans turned to the currency in 2015 when the country's inflation skyrocketed forcing authorities to print US$100 trillion notes (each worth just $40).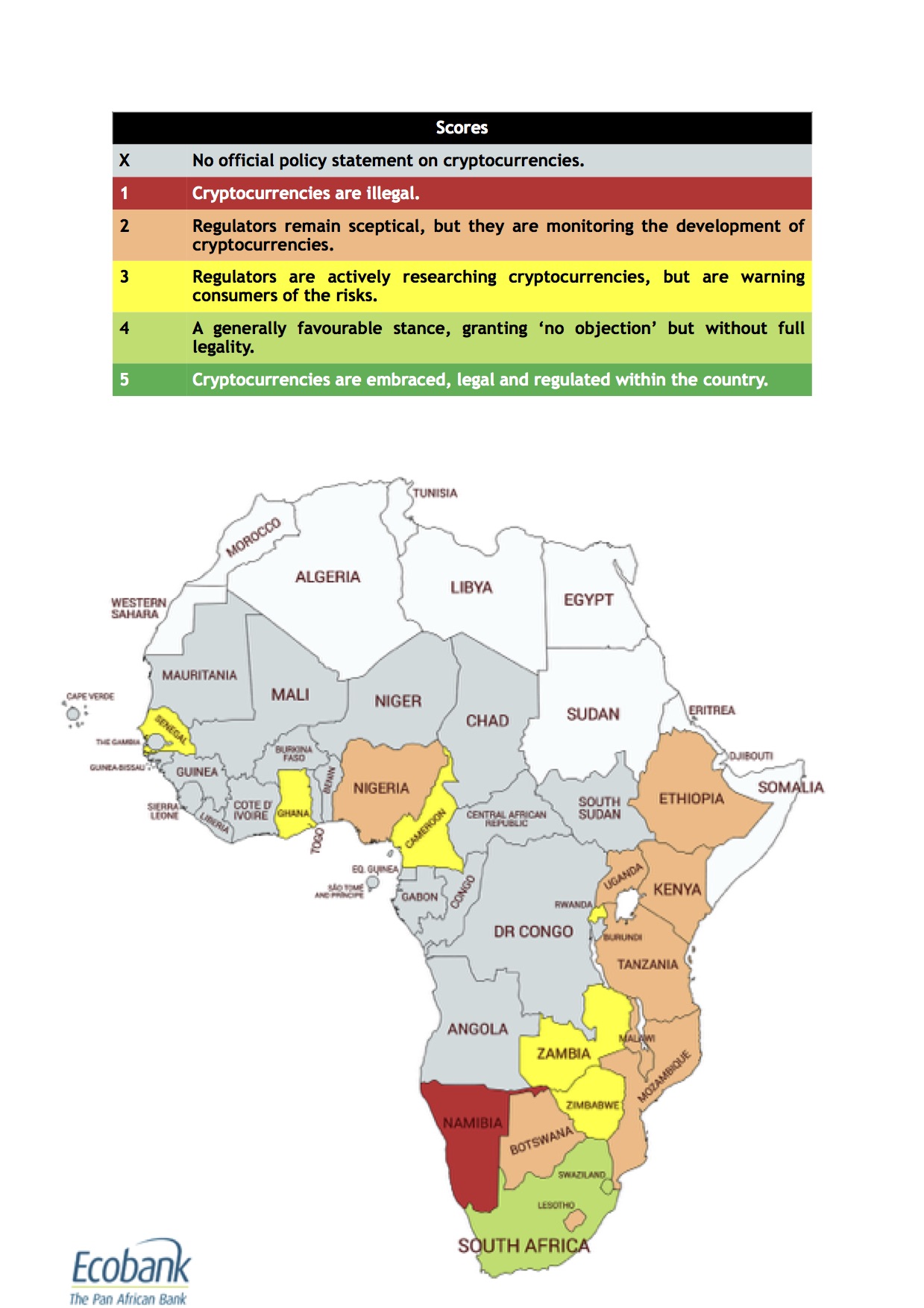 The beauty of transacting in cryptocurrencies in Africa is that they are not plagued with hyperinflation like the countries' local currencies.
Despite the fact that Bitcoin and crypto have gained popularity in Africa, they have not been without controversy.
Some dealers have been hurt from trading and speculation and some have lost money or they have become victims after falling for a number of scams. But this has not deterred the rallying of Bitcoin.
Cryptocurrency transactions are growing rapidly in Africa aided by mobile money. The virtual currencies offer advantages for the continent's young and tech-savvy population.
The continent is undergoing an economic revolution and banks are not part of it. The revolution is also defying the outdated economic policies most of which are yet to be overhauled.
US Blockchain research firm Chainalysis noted that monthly cryptocurrency transfers to and from Africa under US$10,000 (€8,500) shot up by 55 per cent over the past year, reaching a peak of US$316 million in June 2019.
These numbers are likely to keep rising in Africa where cryptos are mainly being used for commerce. In other parts of the world, cryptocurrency is more commonly used by financial traders.
Shortly after the ban in Nigeria, the world's richest man Elon Musk and Tesla CEO announced on February 8 that Tesla had bought US$1.5 billion worth of Bitcoin.
The company added that it would also start accepting payments in Bitcoin in exchange for its products but subject to applicable laws and initially on a limited basis.
With the move, Tesla became the first major automaker to accept cryptocurrency for payments.
Back home in Africa, Bitcoin and other currencies are spreading despite the fact that African governments are not yet regulating cryptocurrency which may be a factor spurring its growth on the continent.
With Nigeria's move, it is evident that the lack of regulation is no guarantee that governments will not change their current mindset.
With the uncertainties surrounding banking operations and the millions of Africans who do not have a bank account, these unbanked populations of countries could be attracted to cryptocurrency since cryptocurrency transactions help to eliminate procedural bottlenecks plaguing traditional banking and financial services.
But, not all governments are sleeping as the cryptos evolve.
Some countries like Tunisia have moved into the virtual currency terrain supplying the Tunisian eDinar which is a government-issued digital currency.
In December 2016 Senegal launched its digital currency, the eCF, to co-exist as a legal tender alongside the recognized fiat currency, CFA Franc. The eCFA would hold an equivalent value.
Banque Régionale de Marchés (BRM), a local Senegalese bank collaborated with eCurrency Mint Limited, a Dublin-based company specializing in creating digital currencies for central banks to operate alongside notes and coins.
In compliance with e-money regulations of Banque Centrale des Etats de l'Afrique de l'Ouest (BCEAO) and the Central Bank of West African Economic and Monetary Union (WAEMU), BRM successfully issued the eCFA.
BCEAO serves the eight West African countries: Benin, Burkina Faso, Guinea-Bissau, Côte d'Ivoire, Mali, Niger, Senegal and Togo. These countries share the common West African CFA franc currency.
Issuing the eCFA is totally controlled by the Central Bank since it owns the production through a digital currency production engine which is kept offline until when needed. eCFA was hailed as an opportunity for financial technology in leapfrogging traditional banking systems in emerging markets and bringing financial inclusion to more people.
According to BRM, the eCFA is a high-security digital instrument that can be held in all mobile money and e-money wallets. The currency secures universal liquidity, enabling interoperability, and provides transparency to the entire digital ecosystem in WAEMU, which is a customs and monetary union of the eight countries.
WAEMU, however, distanced itself from Senegal's eCFA issuance saying that it was not involved in the project.
The Bank warned BRM which issued the crypto against using the term "eCFA", in order "to prevent any kind of confusion with the legal currency" in the region.
Successfully rolling out the eCFA could have a substantial impact on Senegal and beyond since it could provide a secure, reliable, and cost-efficient means of sending, receiving, and storing funds.
With such regulatory and policy hurdles, financial inclusion and access to banking services is still lagging in most of Sub Sahara Africa but inventors will continue finding ways to circumnavigate these obstacles.
Cryptocurrencies are an idea whose time has come and just like with the digital evolution, it is only a matter of time. This time around, Africa should not be caught sleeping or the continent will again miss a golden opportunity.
There is no latest report or update regarding the development of the eCFA ever since the statement by The Central Bank of West African States warning against the crypto name's use in Senegal.