Kristen Anne Bell, born on July 18, 1980, is an American Actress. Her professional in acting began when she was attending the Tisch School of the Arts in New York where she starred in stage productions.
Kristen went to Shrine Catholic School nearby Royal Oak where she took part in a music and drama club. Before moving to this school she went to Burton Elementary School and Norup Middle School (an exempt of Berkley School District).
Soon after her graduation, she moved to New York to study musical theatre.
Read: Othman Benjelloun | Africa's Billionaires | Net Worth | Personal Life
Preview
| | |
| --- | --- |
| Full name: | Kristen Anne Bell.  |
| Source of wealth: | Actress. |
| Age: | 41 years. |
| Birthplace: |  Huntington Woods, Michigan, U.S. |
| Height: | 1.55m. |
| Nationality: | American. |
| Date of birth: | 18 July 1980. |
| Occupation: | Actress. |
| Marital status: |  Married. |
| | |
Kristen Bell Net Worth/ Achievements
 As of 2021, the estimated net worth of Kristen Bell is $40 million.
Kristen and Dax had a very low–key marriage for a Hollywood couple. It cost only $142.
In 2005, she won the Satellite Awards for Outstanding Actress in a Miniseries or a Motion Picture Made for Television for Reefer Madness: The Movie Musical.
The same year, she won the Gold Derby Awards for Drama lead actress for her work in Veronica Mars.
In 2006, Kristen won the Saturn Awards for Best Actress on Television for Veronica Mars.
In 2013, she won the Alliance of Women Film Journalists for Best Animated Female for Frozen.
She received the People's Choice Awards in 2016, for Favourite Premium Cable TV Actress for her role in House of Lies.
In 2017, Kristen received the People's Choice Awards for Favourite Actress in a New TV Series.
In 2019, she won the People's Choice Awards for Comedy TV Star of 2019 for her work in a Good Place.
The same year, Kristen was inducted for All film Work by the Hollywood Walk of Fame for Motion picture star.
Recently in 2020, she won the Critics' Choice Movie Awards #SeeHer Award for All film Work.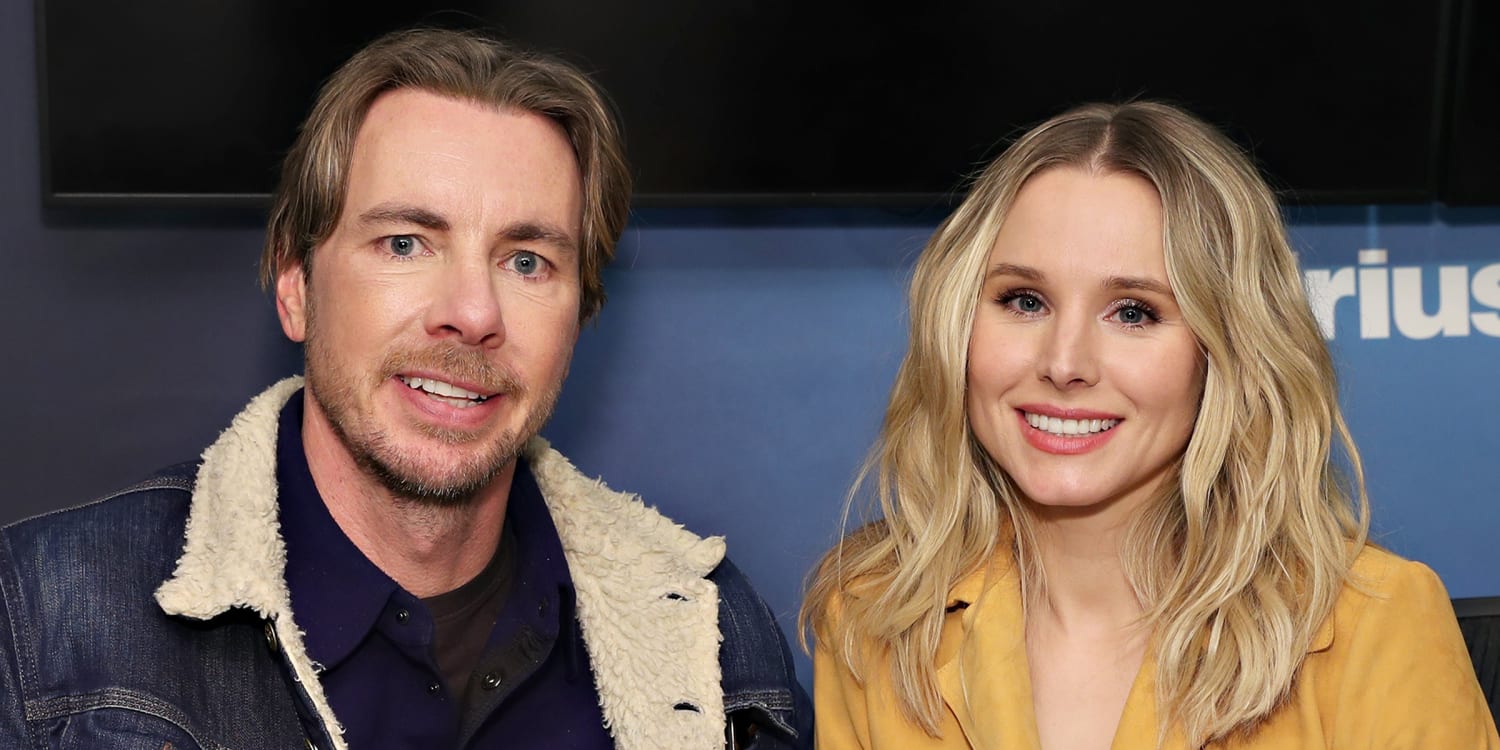 Kristen Bell Early Life
Kristen was born and raised at Huntington Woods, a suburb of Detroit.
Her mother Lorelei is a nurse and her father, Tom Bell is a Television news director in Nevada. They divorced when she was two.
She has two stepsisters, Sarah and Jody from her father's second marriage also Lara and Megan, her half-sisters, and Matt and John her half–brothers from her mother's marriage.
Her father is German, Scottish and her mother is of Polish descent.
When she was four she stated, she didn't like her first name. Kristen's mother convinced her to use her middle name instead. So at high school, she used Anne as her name.
Kristen fractured both her wrists together when she was playing street hockey with her friends.
Prior to her high school freshman year, her parents moved her from the public school system and transferred her to Shrine Catholic High School near Royal Oak.
Before this school, she went to Norup Middle School. When she was in Norup, she won the role in school's 1997 production of The Wizard of Oz and in Fiddler on the Roof, and in Li'l Abner.
She graduated in 1998; Kristen was titled the yearbook's 'Best Looking Girl' by the senior grade vote.
Soon after Kristen graduated, she moved to New York to Tisch School of Arts and pursues musical theatre there.
In her senior year in 2001, she left some credits shy to graduate, to take part in Broadway musical version of The Adventures of Tom Sawyer.
Kristen ended her relationship with Kevin Mann, her ex-fiancé in 2007 after a five-year staying together.
Later on, she mentioned that 'dating makes her vomit, not cause of grossness – OK, a little out of it…I've always been a serial monogamist' in the magazine Complex.
At the end of the year, Kristen began dating Dax Shepard an actor, also from Detroit. They declared their engagement in January 2010 and delayed marriage until the state legalized same-sex marriage.
After the Defense of Marriage Rule was laid by the Supreme Court on June 26, 2013, Kristen proposed Dax marry her on Twitter, which got accepted.
The couple starred together in 2010 in When in Rome, 2017 – ChiPs and 2012 – Hit and Run.
On October 16, 2013, they married at the Beverly Hills County Clerk's Office with two daughters, Delta and Lincoln.
Mental Health
Kristen stated that she had difficulty with depression and anxiety and took rehab for it in May 2016.
She knew it's important for her to be candid about it so that people in the same situation can sense that they are worthy and have something to offer.
Entrepreneurship
Kristen and her husband founded Hello Bello, the company which is a plant-based baby care line in 2019.
This line of products concentrates on making environmentally friendly and non – expensive products. It works in partnership with Walmart and sells products online and in all locations.
Kristen Bell Career
Early career:
Kristen first auditioned and earned a dual role as a tree and a banana in Detroit's theatre production of Raggedy Ann and Andy.
Her mother set up an agent for her, before she turned 13, which helped her appear in the news advertisements for a few advertisements and Detroit retailers.
Kristen went to private acting classes. In 1998, she made an appearance in a nearby local filmed movie Polish Wedding.
In 2001, she moved from the New York University for her role in a Broadway musical of The Adventures of Tom Sawyer as Becky Thatcher. The same year, she was credited in her debut film, Pootie Tang.
Other than that she auditioned for Smallville, the television series which eventually was taken by Allison Mack.
In 2002, she starred in the revival of The Crucible with Angela Bettis, Laura Linney, and Liam Neeson.
 Later that year, she moved to Los Angeles cause of her relation with her friends Dan Studney and Kevin and appeared as guests on Television shows, finding roles in TV series.
'Except for Norm Macdonald and Skin, everything was picked up, even the auditions', she stated.
Veronica Mars and Other roles:
Kristen was acclaimed for her starring role in the movie, Gracie's Choice for the Lifetime television film in 2004. The movie made one of the highest ratings in the network.
She got her debut movie, an action – thriller released movie titles, Spartan. She played Laura Newton, the abducted daughter of U.S President and co-actor as Val Kilmer.
She starred as a guest on the period drama series of HBO, Deadwood for a two-episode story (Suffer the little children and Bullock Returns to the Camp).
When Kristen turned 24, she won the part as the character in the UPN noir play series Veronica Mars that was released in 2004. The drama series was created by Rob Thomas where she drew on the parallels between her actual life and Veronica Mars.
Her performance gifted her, Saturn Award for Best Actress on Television, and got nominated for TCA Award for Individual Achievement in Drama.
According to some critics, her performance was overlooked and should be nominated for Primetime Emmy Awards as well.
Kristen starred in Big Miracle, the family series. She played Jeannie Van Der Hooven, the female main lead on the comedy series House of Lies that released on January 8, 2012, on Showtime. It ended in July 2016.
She gave the voice to the character Anna in Frozen which was released on November 22, 2013. The same year, she played an Eagleton City Councilwoman in Ingrid de Forest on Parks and Recreation.
In 2014, along with her husband Dax, she starred in a commercial for Samsung Galaxy Tab S, which went popular with above 20 million views on YouTube that they decided to do another for the holiday season.
In 2016, Kristen starred as Eleanor Shellstrop in the comedy-drama, The Good Place.
She gave her voice to the character of Jade Wilson for the anime comedy movie Teen Titans Go! To the Movies and the same year, regave her voice for Princess Anna in the second part, Ralph Breaks the Internet.
Hulu confirmed that Kristen was going to regive her role of Veronica Mars in the 8th episode – the 4th season of the series Veronica Mars that would premiere in July 2019.
In 2020, she launched a children's book, The World Needs More Purple People, co-written by Benjamin Hart.
FAQs related to Kristen Bell
Does Dax make more money than Kristen?
According to the internet, they both have the same amount of net value as $40 million as of now.
Where is Kristen and Dax's house?
Their home is a good place to live in! Kristen is the owner of the Los Feliz neighbourhood, living with their daughters.
Is Kristen vegetarian?
Yes, she has been vegetarian since she was 11 and went vegan in 2012.
Does she have tattoos?
No, she doesn't have tattoos, since, her husband doesn't like girls with them, but she's always wanted to have one.
Does Kristen speak any other language?
She used to know and speak Brazilian but, it was a long time ago.
Read: Early investors sell stake at Twiga Foods accommodating Creadev