Tanzania's banking industry is experiencing interesting changes as top tier banks bring different investments, innovations, and benefits to the economy. The National Microfinance Bank (NMB) is a part of that.
The bank which has historical roots in Tanzania has surpassed many limits, including breaking a record of the highest profit ever marked in Tanzania's banking history. NMB raked in more than US$88 million in profit after tax (profit before tax of more than US$127 million), in the year ended December 31 2020.
Ruth Zaipuna, the bank's CEO, attributed the bank's encouraging performance to a strict mirror of the bank's strategic plans, which are pivoted towards bringing more income and improving operational efficiency by leveraging on tech to drive customer experience and cost efficiency (NMB).
"This year (2020), despite the global uncertainties in the wake of a global pandemic, we delivered a record-setting performance with strong stakeholder support, operational excellence, and solid strategy execution. The market at large also benefited from the unprecedented monetary and fiscal support by the Central Bank and the government. This, in turn, led to our profits reaching an all-time high," said Zaipuna.
NMB is also listed on the Dar es Salaam Stock Exchange (DSE) and has been tracking rather promising records. According to DSE daily market highlights, NMB's closing price stood at TShs. 2,340 and the previous closing price was TShs. 2,340.
The bank's largest shareholders are strategic partners Arise B.V with a 34.9 per cent shareholding and the government of Tanzania with a 31.8 per cent shareholding.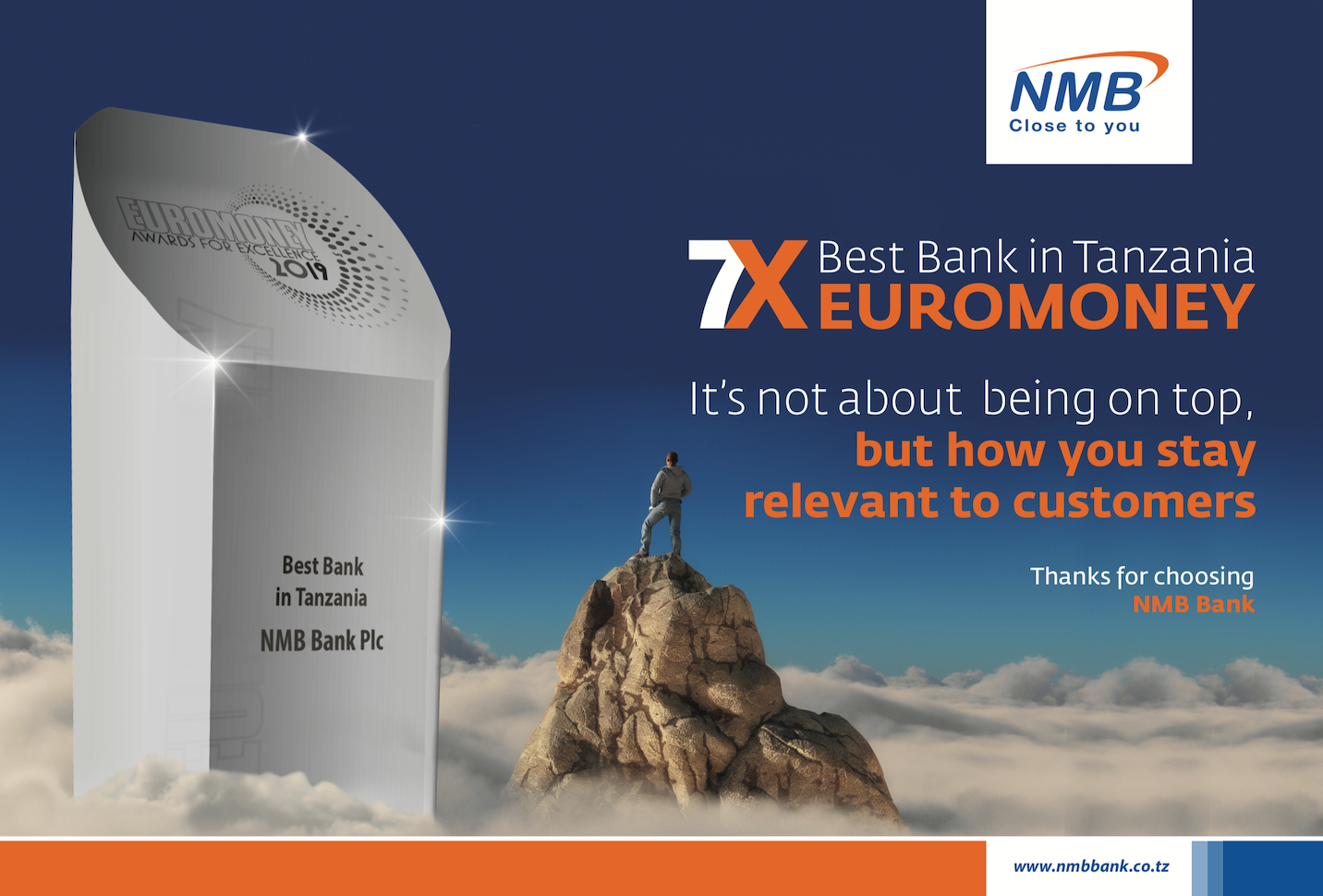 According to NMB, alongside its financial achievement, "the Bank has also received several awards, highlighting the growth trajectory of the institution. In 2020, NMB's achievements led to internationally acclaimed recognition as the Safest Bank in Tanzania by Global Finance magazine, and being named Best Bank in Tanzania for 8th consecutive time by Euromoney magazine,"
NMB has at least a 22 per cent market share in loans and customer deposits. The bank has also the largest balance sheet in the banking industry and remains the most profitable bank in the country.
NMB deep roots in Tanzania
NMB roots with Tanzania are deep and strong. The bank was established under the National Microfinance Bank Limited Incorporation Act of 1997.  As one of the largest commercial banks in Tanzania, offering a wide range of services to small to medium-sized corporates clients, big businesses, agriculture lending and individual.
As a bank that began offering only payment services, limited lending operations before becoming a fully-fledged retail bank, NMB has become the ideal form of banking across the banking scape in Tanzania.
"In 2005, the Government of the United Republic of Tanzania privatized the bank when it sold part of its shareholding (49 per cent) to a consortium led by the Coöperatieve Centrale Raiffeisen-Boerenleenbank B.A. ('Rabobank Group')," according to NMB.
However, according to bank information, there was "further divestiture in 2008 when the Tanzanian Government offloaded another 21 per cent of its shareholding to the Tanzanian public through an Initial Public Offering (IPO). The listing of the bank's stock on the Dar es Salaam Stock Exchange has led to a diversified ownership structure,"
NMB has 226 branches over 8,000 agents and more than 800 ATMs across Tanzania, whereby the bank's services are offered in all districts in Tanzania. Further, NMB has more than 4 million customers and has employed more than 3,450 staff.
NMB advancing the industry
NMB's presence in the banking industry has proved to be vital to the economy.  In terms of numbers, the bank has continued to project steady growth with healthy performance in Q1 2021.
NMB's profits before tax increased by 34 per cent which is more than US$40 million, while profit after tax stood at 33 per cent to US$28 million in the quarter ending March 31 2021.
"The Bank's balance sheet remains strong, reflecting continued focus on deepened penetration.  The bank's loans and advances grew 11 per cent YoY, while the delivery of distinctive customer-focused value propositions has led to a 9 per cent YoY growth in customer deposits to TShs. 5.3 Trillion in Q1 2021 from TShs. 4.8 Trillion in Q1 2020. We continue to emphasize maintaining a healthy funding base to support sustainable lending growth as we approach H2 2021," according to NMB.
According to information from The Citizen, during the first quarter of 2021, the lender's net profit rose to around US$28 million which is an increase from more than US$21 million during a comparative quarter last year.
The publication further argued that the increment was contributed by the prolonged growth in both funded and non-funded income streams, disciplined cost-optimisation and enhanced loan portfolio management.
As the best retail bank in Tanzania, with 93 per cent of its transactions happening outside branches, NMB has encapsulated the role of innovative banking techniques to promote financial inclusion in Tanzania.
The use of digital banking platforms has been a crucial contributor to NMB's advancement in the industry. According to information from NMB, the bank recorded a 10 per cent year on year growth in non-funded income attributed to the increased customer activities on NMB digital platforms.
NMB is also bringing a new wave of digital banking in Tanzania. The bank's Innovation Hub, which helps it to continue being at the forefront of technological innovations by anticipating customer needs and provide an extensive range of banking solutions and operation efficiency delivery, according to NMB Head of Innovation Josina Njambi.
Digital services platforms through Mobile (USSD) and application, internet and ATM has brought a fifty-fifty benefit related to the table, as customers get seamless services and the bank getting a chance to offer its services to a wide range of customers.
The bank's innovation head, during an interview in May 2021, told The Citizen that, the number of accounts being opened in our digital channels consists of 70 per cent of the total account opened, which has allowed us to reach a huge accounts base of four million. This demonstrates a big shift towards the digital economy in Tanzania and the region in general.
With the current growth of financial technology and Tanzania's economic expansion to a low-middle-income status, the banking industry stands to accelerate business and individual economies by providing equitable banking solutions.
According to NMB, the Bank's total assets grew by 15 per cent to US$3 billion in Q3 2020 up from more than $2.6 billion in Q3 2019 and this was supported by the growth of both Customer Loans and Customer Deposits by 16 per cent and 15 per cent respectively.
Audited financial statements shows that the bank has Equity Investments, property, plants and equipment including government securities, among others.