Botswana estimates the diamond economy will start dropping in 2030.
Botswana launched a digital and innovation hub in 2014.
Its main aim was to create a pool of information for start-ups by bringing tech entrepreneurs to one industrial park.
Despite young investors saying that finding funding for business start-ups has been the main hindrance to actualizing their inventions, this is not dulling prospects.
One of the first female military pilots in Botswana, Kgomotso Phatsima, has become a driving force in the country's transition to the 4th industrial revolution (4IR) which incorporates robotics, virtual reality, artificial intelligence, and scientific advancements.
To achieve her aspirations, she started a foundation, Dare to Dream, based at the Botswana digital and innovation hub. The foundation teaches young people about the elements of entrepreneurship, coding, and robotics in the aviation industry.
Read: Best Stocks to Buy in Kenya in 2021 | You Must Read Before Buying
Having served 10 years in the Air Force, her dream of being a pilot started when her village near the capital of Gaborone was destroyed to accommodate an airport expansion.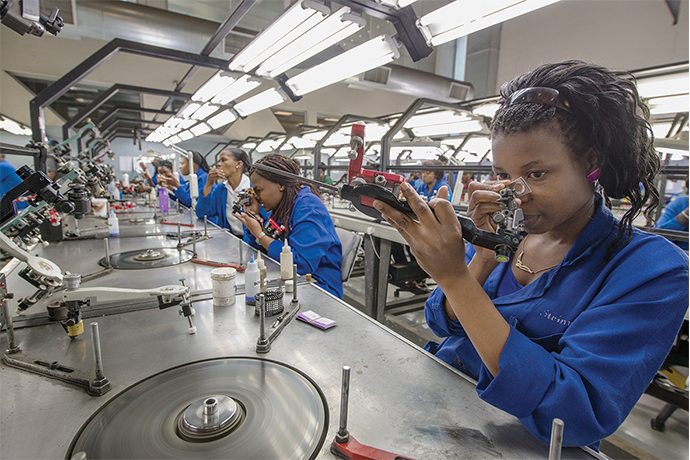 Graduates from Dare to Dream celebrate their digital achievements by getting an air ride piloted by Phatsima. In 2020, the foundation trained over 2000 students, with its main focus being on young women.
"There has been an exponential wave of the Batswana people realising that technology will take the country to the next level. We use the power of flight to fire new passions in young people," Phatsima said.
The ex-Air Force pilot is an important part of Botswana's push for economic diversification, science entrepreneurship, and tech investments to reduce the diamond mining dependency.
In an interview with the Thomson Reuters Foundation, Phatsima said that Covid-19 was an eye-opener that careers in the future were rooted in programming, technology, and innovation.
"There might not be very much manufacturing of robotics or aviation in Botswana, but we want to prepare these young people for the world so that they can be competitive and be able to work with others around the world who have these opportunities, "said Phatsima.
Even though the country knows that diamonds are a finite resource, it still holds the world's richest mine and is the biggest producer of gem diamonds. The country has become something of a role model for good development, powered by diamond mining.
20 per cent of Botswana's gross domestic product comes from this one commodity.
It propelled the country from the second poorest country in the world in 1966, at US$70 per person per year, to a middle-income country in 2021. Botswana estimates the diamond economy will start dropping in 2030.
In recent years, the Batswana people have begun investing in a knowledge-powered economy to save the country from relying on finite resources.
The Minister of Tertiary Education, Research, Science and Technology, Dr. Douglas Letsholathebe, said that the country needed to diversify the economy as the fourth industrial revolution needed people with digital knowledge.
Read: African Countries cannot leapfrog to Industrialization
The Batswana are focusing on e-learning and online marketing initiatives. The country has high levels of inequality, and the unemployment rate is 24.5 per cent in a population of slightly more than 2 million people.
Botswana launched a digital and innovation hub in 2014. Its main aim was to create a pool of information for start-ups by bringing tech entrepreneurs to one industrial park. The hub boasts smooth architecture, hovering drones, modern shuttles, and commuters on bicycles and hoverboards.
Phatsima, while talking about opportunities held by the hub, said that the pressure was on young people to create and innovate if Botswana was to be seen as the Silicon Valley of Africa. She went on to say that technology cannot exist unless strong policies are in place to support it.
Young investors, however, say that finding funding has been the main hindrance to actualizing their inventions.
KED LIPHI LTD, a local startup that has invented simple and everyday advancements, says that they have had to fund every step of their inventions.
A Solar Backpack 
The backpack has an inbuilt solar charger. It is charged as the children go to school. It allows pug in devices and can be used as a light source at home. The backpack would ensure that children could continue with their studies at night in cases of blackouts or no electricity at all.
It also has an inbuilt tracker to locate children in countries with high rates of kidnapping cases, said Kidumetse Liphi, founder and chief engineer of KED LIPHI.
Automatic Diagnostic Combo Machine
It is a portable rapid contact tracing machine that would help Botswana combat the spread of the virus. It combines facial recognition, thermal temperature screening, an ID scanner, and a sanitiser dispenser. It scans the face of a person and gives their Covid-19 status.
"It has been months of trying to get meetings with government bodies, but we were rejected. They said we needed a consent letter from a company that is interested in working with us, but we only have the prototype. We need funding to commercialise it," said Kidumetse.
In response to youth funding, Dr. Letsholathebe said that it required a lot of balancing to hand out money to entrepreneurs in a country that lacked proper roads and universal electricity.
He gave a narrative of a stuck driver without petrol and a starving citizen, saying that the starving person should be served first before the driver.
Diamond mine workers have expressed their fear, saying that they could be left behind amid the talk of innovation, automation, and the fourth industrial revolution.
"Our fear is of the possible job losses coming. The government should commit to reskilling and retooling mine workers and make sure the fourth industrial wave does not negatively impact job security, "said Kitso Phiri, the chief secretary of the Botswana Mineworks Union.
Dr. Letsholathebe emphasized that technology was for everybody and the government was funding new thinking and digital training to ensure no one in the country was left behind in technological advancements.