African countries lose between five and 25 per cent of their GDP due to issues related to lack of water and the accompanying infrastructure.
In the Sub-Saharan Africa region alone, over 300 million people lack access to clean drinking water and more than 700 million live without access to good sanitation.
This is as the world faces a severe water shortage by 2030 with Africa likely to bear the brunt due to the exacerbated impact of climate change. To make matters worse, Africa's water sector has an annual investment shortfall of US$ 13 billion in urban areas and US$ 27 billion in rural areas.
But first things first.
Data from the United Nations Environment Programme (UNEP) shows that Africa will have an acute water shortage in 25 of the 55 countries on the African continent by 2025. The data warns that these countries will record water levels below 1,700 cubic meters per capita per year.
Sub-Saharan Africa (SSA) is home to 50 per cent of the world's entire population that does not have access to clean water. The water crisis is prevalent. For a better perspective, out of the two billion people living in water insecure, about 1 billion of these are in the SSA countries plagued by water problems. Again, the numbers translate to every 1 in 8 people lacking water on the planet on a daily basis.
The UNEP data shows that almost two-thirds of the world could face water shortages in less than four years.
Without water, poverty increases due to the combined effects of lacking this essential commodity.
According to the Water Project, the lack of water is an insurmountable obstacle to helping oneself and achieving freedom from the shackles of poverty. Water scarcity means that communities cannot grow food, build housing, stay healthy, stay in school and cannot keep working. Lack of clean water means that the possibility of breaking out of the cycle of poverty is incredibly slim.
As usual, the most affected by this scarcity are women and children creating a crisis that affects them every minute of the day.
Economically, several man-hours are lost daily as community members are forced to spend many hours daily finding and transporting water which is often from unclean water sources which are probably long distances from villages.
In Africa, the jerry can is the typical container used for water collection and weighing over 40 pounds when completely full, children engaged in fetching water suffer from bearing the heavy loads on a daily basis which takes a toll on their health. Consequently, many other resources are spent seeking treatment for complications occasioned by carrying these heavy loads while in education, the resources are lost since children cannot be in school and if they are, they are often too tired to fully attentive.
The cascade effect of the lack of water in Africa is that poverty has become an epidemic on the continent. Other contributors to poverty are political instabilities, ethnic conflicts, climate change and other man-made causes.
However, the lack of clean water remains one of the greatest causes of poverty in Africa. Ironically, it is also one of the most overlooked.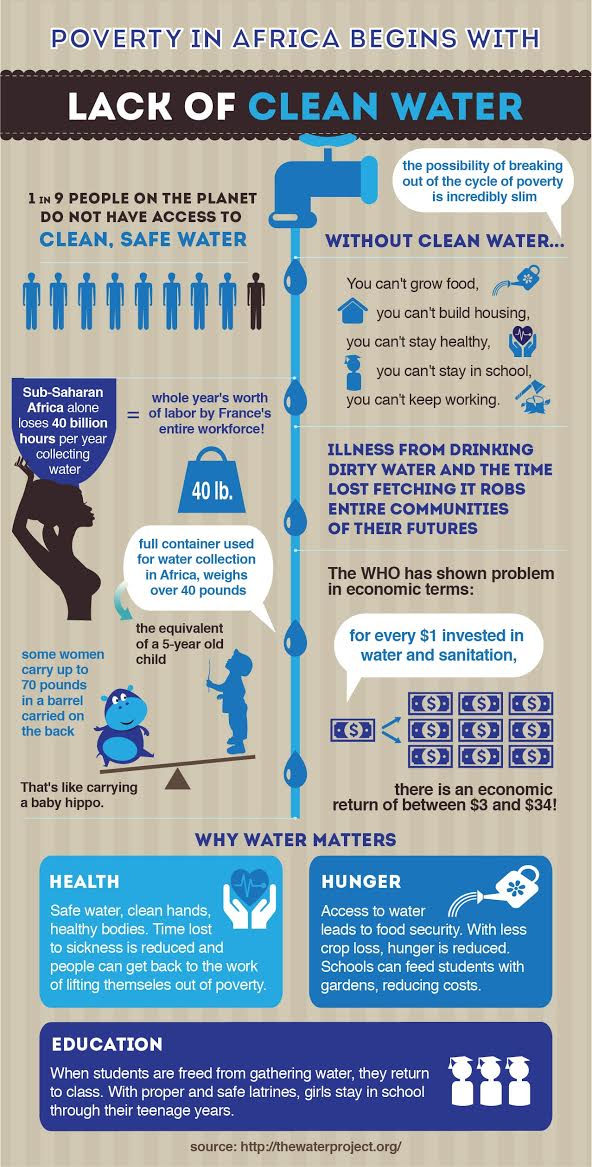 If there has been a time that has shown that it is possible to provide clean water for all Africans, it is since the time the Covid-19 pandemic was announced. Many countries have gone the extra mile to enforce the availability of water in public spaces including schools, hospitals and even business premises. With the enthusiasm to eradicate the virus having brought water services to the people, it shows that the continent can move further faster if it harnesses all the resources to ensure that water is available to all without discrimination.
Various data sources show that the SSA region is the world's fastest urbanizing region which brings with it a demand for Water, Sanitation and Hygiene (WASH) services.
In slightly under three decades, by 2050, over 70 per cent of the global population will be living in urban centres with Africa making up most of this urban growth, according to the United Nations Population Division. Africa is continually struggling to provide WASH services for all its populations and even in major cities, a steady supply is not assured. The most affected are those living in informal settlements since they have to rely on water sources whose quality is not assured.
The economic impact of the shortfall in water infrastructure and supply is already severe in the SSA region where the region is currently losing an estimated 5 per cent of its annual gross domestic product (GDP) due to poor access to clean drinking water and sanitation, 5 to 25 per cent of its GDP to droughts and floods in affected countries.
With 40 billion hours- of otherwise productive time annually- spent collecting water, the losses to the African economy can only increase if nothing is done to remedy the situation.
South African-based construction and engineering firm, Khato Civils, notes that most of the underdevelopment in Africa is caused by the lack of water infrastructure which limits the continent's economic potential.
With the African Continental Free Trade Agreement (AfCFTA), coming into force and with expectations that it will increase levels of intra-Africa trade by over 50 per cent by 2030 and offers the opportunity for increased Pan-African collaboration in major infrastructure projects, companies like Khato Civils are targeting to expand into other African countries to offer services and increase access to water which is the backbone of most progress on the continent.
The World Health Organisation (WHO) notes that for every US$ 1 invested in water and sanitation, the direct and indirect economic returns to individuals and households, the health sector, agricultural and industrial sectors range from US$ 3 to US$ 34.
In Africa, insufficient long-term investment in water infrastructure has stymied growth and more impetus is needed to help manage water resources and provide water services which remain a key challenge.
The African Development Bank (AfDB)'s Acting Vice President for Agriculture, Human and Social Development, Wambui Gichuri, highlights that the continent needs to annually invest over US$ 35 billion per year to start reaping the benefits associated with water availability.
In the last 25 years, the SSA region's population has almost doubled yet access to water has only improved by 20 percentage points within the same duration. Data from the United Nations Children's Fund (UNICEF) shows that in SSA, water-related diseases such as diarrhoea and cholera which are caused majorly by the lack of clean water have led to about 180,000 children under 5 years of age dying every year.
The irony is that Africa suffers no shortage of water resources. Africa has 63 international transboundary river basins that cover about 64 per cent of the region's land area. These basins account for 93 per cent of the total surface water on the continent. But, the current water condition on the continent does not reflect the abundance of water resources in Africa.
By tapping into these resources through the AfCFTA, the dim statistics which could manifest the consequences in less than five years from now could just be a nip in the bud which could change the narrative.