Tanzania has been experiencing extreme floods for years that have been destabilizing major cities
Tanzanian cities can embrace "sponge" infrastructure designs for better living and resilience against floods
Pemba and Unguja have been experiencing a hard turn of flooding events leading to a shutdown of schools and business establishments
Tanzania has been experiencing extreme floods for years that have been destabilizing major cities in recent times.
Despite floods being rather catastrophic events, costing lives and huge amounts of funds to induce relief in cities, still, there are positive things that can come out of flooding events, for Tanzania to fetch key lessons for analysis.
As 70 per cent of all-natural hazards are hydro-meteorological and linked to floods and drought, robust approaches in extinguishing flooding shocks are inevitable.
Read: Turning flood basin into real estate asset in Tanzania
Given the rise of urban centres growing by 15 per cent per year and expansion of non-farm business in Tanzanian cities, it is worth looking at flood mitigation mechanisms exhaustively.
Tanzania's flooding landscape
On different occasions (2009, 2010,2011,2014, and 2015) the commercial pulse of Tanzania—Dar es Salaam(with more than 5 million people), has been hit by heavy rains, triggering floods that destabilized vital economic functions of the city.
According to World Bank, in May 2019, a series of heavy rainfall led to serious flooding in Dar es Salaam, sweeping away almost 1,560 homes, displacing over 1,215 families, while destroying roads and bridges necessary for the city's economic interactions.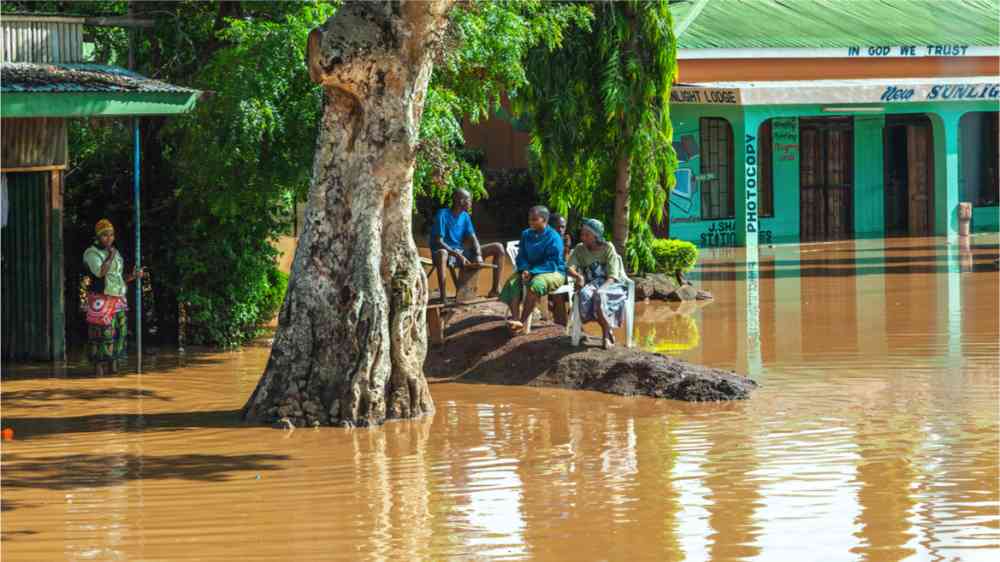 Health impacts alone cause great pain and distress to victims and an enormous amount of human capital and funding has to be dispersed to attend to large numbers of people affected by water-borne diseases such as cholera, which is chronic in Dar es Salaam.
A careful study of the 2011 flood's socio-economic impacts on Dar es Salaam indicated that the flood events damaged properties worth millions and the government was forced to spend a total amount of US$796,968 in rescuing and relocating vulnerable communities who lived in the low-lying areas of Dar es Salaam's districts.
Per World Bank research, which offers clear insight into the matter, exposure to floods is a widespread phenomenon affecting at least 39 per cent of the population, or two million people, having been impacted either directly or indirectly by floods.
The April 2018 floods alone affected between 900,000 and 1.7 million people, and among the affected households, 47 per cent (18 per cent of the city's population) reported health impacts.
Despite the grim numbers and the present flooding reality, there is a rather, different line of thinking/analysis that is yet to be explored exhaustively for Tanzania to disentangle itself from flooding disasters in a sustainable way.
Zanzibar's flooding landscape
It is entirely factual that climate science offers a substantial perspective towards understanding climate variabilities and changes,  whereas Zanzibar's Disaster Risk Profile (2016) expounds on vital issues on how flooding can be dealt with quite differently.
Zanzibar is a semi-autonomous region of Tanzania, composed of the Zanzibar Archipelago in the Indian Ocean; it is a historic centre, a World Heritage site, widely known for its exotic beachscape, and a unique array of tourist attractions.
Sadly—the islands (including Pemba and Unguja) have been experiencing a hard turn of flooding events leading to a shutdown of schools and business establishments.
The Disaster Risk Profile shows that Zanzibar spends over US$500,000 annually on emergency actions alone. Further, in a combination of earthquakes, floods, and tropical cyclones, Zanzibar experiences $2.2 million of loss from the trio, but also—floods account for 90 per cent of the average loss.
There are two pathways of interest, that are of paramount importance and necessary to incorporate when analyzing various aspects related to floods primarily in Tanzania.
National climate finance parameters
Normally, climate finance calls for nationwide and international financing drawn from public and private sectors, for the deliberate support of mitigation and adaptation actions that will address climate change—which is a complex climatic phenomenon posing a real-time threat to urban and rural livelihoods.
Climate change is yet another denominator that impacts greatly urban development; this reflects primarily to island cities (such as Zanzibar) prone to submergence and flooding.
The Climate Change Strategy (2012) estimates that the cost of building adaptive capacity and enhancing resilience against future climate change in Tanzania is $100 to $150 million per year.Further, aggregate models indicate that net economic costs could be equivalent to a further 1% to 2% of GDP per year by 2030.
Floods could be used as a clear signal of how climate finance streams function and how they are managed in Tanzania.
Read Also: Data Vs Floods: Safeguarding Africa's development
Adaptation and mitigation of all climate risks, including floods, require critical financing approaches to prolong urban economies which forge vital spheres of manufacturing, processing, public administration, and commercial activities, for a desired Tanzanian industrial economy.
This means that Tanzanian cities can finance (or be strategically financed) their way out of flooding, via establishing robust technological meteorological centres to detect natural hazards and plan effectively beforehand.
With climate information, cities hold a measure of power over natural hazards, in terms of effective infrastructure planning, settlement mobilization, and disaster risk preparedness—which reduces the number of victims, and offers vantage points in tacking cities' GDP lost to floods.
Urban infrastructure designs
It is time for Tanzanian cities to embrace "sponge" infrastructure designs for better living and resilience against floods.
A sponge city (a concept pioneered by China) has the total capacity to mainstream urban water management into urban planning policies and designs.
Such cities have appropriate planning and legal frameworks and tools in place to implement, maintain and adapt the infrastructure systems to collect, store and treat (excess) rainwater.
Further, a "sponge city" deals with excess water (not effectively utilized currently in Tanzania), but also reuses rainwater to help to mitigate the impacts of "water scarcity" in cities and does away with "too dirty" water.
Thus, there is a need for city officials (planners, engineers, and architects) in Tanzania, to rethink their approach to floods, whereas drainage systems, urban green lands, parks, residential areas, roads, and squares are essential components in reducing flooding by channelling the excess water strategically.
A sponge city would cut across crucial spheres of interest in Tanzania.  It would offer a wide range of excess water (retained from rain) uses compared to conventional urban plans, cut down flood emergency costs, save lives and prolong economic activities during rainy seasons.
The concept of a sponge city would be crucial to Zanzibar and would have a positive impact on the city's tourism industry, which contributes almost 27% to the GDP employing over 72,000 people.
In 2018, World Bank estimated that damages to infrastructure in Dar es Salaam(caused by April 2018 floods), were at $107 to $227 million, and East Africa's largest metropolis lost 2% to 3%of its GDP.
This means that on average, affected households lost 23 percent of their annual expenditure, equivalent to 84 days of a typical household's expenditure.
Green infrastructures are yet viable designs that can expunge urban problems caused by natural hazards, primarily floods. Urban area planning should factor in building resiliency against floods and be able to bounce back within short spans of time, as city operations are complex and are relied upon heavily by millions of people.
Dar es Salaam is the gateway for commerce, political influence, and an entertainment landscape; the city also influences operations and functions of other growing cities in Tanzania, which depend on goods and services from this commercial pulse. This means Dar es Salaam demands robust infrastructural designs and economic models that can counter environmental shocks, provide relief and safety, and enhance community abilities to generate wealth.
In light of the fast adoption of solutions within urban areas, cities are considered as centers of knowledge and innovation and the challenge in building resilient cities lies in how they are managed and developed.
Hence, the role of various crucial actors (who are also affected by multiple issues related to climate change)is required to execute resilience plans related to flooding or other environmental shocks.
Through sustainable development measures, which call for their efficient management at various levels, resilience can be achieved, particularly via amplifying how cities handle planning and disaster management.
Read: Cyclone Kenneth: Mozambique evacuates, Malawi cautions citizens