Have you ever considered investing in Rwanda? Then you should try it in the year 2021.
The investment-friendly climate in Rwanda backed by laws that favour investors is one of the reasons to invest in Rwanda. Or is it?
Well, the country's robust governance and Anti-corruption system of government offer investors security for their investment.
Access to markets
Rwanda is a hub for rapidly integrating East Africa and offers investors access to markets with over 10 million people.
The sustained high economic growth with an average annual GDP growth rate highly favours domestic and foreign investors with a stable inflation and exchange rate.
Top business climate
World Bank Group ranked Rwanda among the top business climate reformers in 2011 and 2012. Subsequently, Rwanda was ranked 46 out of 189 economies in the World Bank Doing Business report 2015, in terms of convenience of doing business.
It ranked 3 in sub-Saharan Africa, which includes fast-developing countries like Kenya and Tanzania.
Rwanda Development Board (RDB)
The East African country has an established board, Rwanda Development Board (RDB), which was established in 2008 to facilitate new investment projects.
As a result of the investment law of 2006, RDB has consolidated various government agencies previously involved in promoting investments.
The agencies now work as a group and act as an information centre for investors to obtain the required approval certificates land, work permit, and tax incentives.
The RDB also evaluates the business plans for potential investors to allocate investment incentives better and record income from investments.
Also Read: Ghana partners German firm G+D in digital currency rollout
The board targets investments in the energy, tourism, and Information Communication and Technology sector.
The government of Rwanda invites all Foreign investment in all sectors with no restrictions on equity or ownership.
According to statistics from RDB, Rwanda registered investments valued at $1.3 billion (Rwf1.2 trillion) in 2020, a reduction of about 47 per cent compared to 2019 when the country raked in $2.46 billion.
The board reported that a decline in investment was attributed to the Covid-19 pandemic which has caused a global economic slowdown.
Real estate and construction and manufacturing accounted for 68 per cent of all investments registered at 48 per cent and 20 per cent respectively.
Other sectors that attracted significant investments include agriculture, ICT, energy, mining and financial services.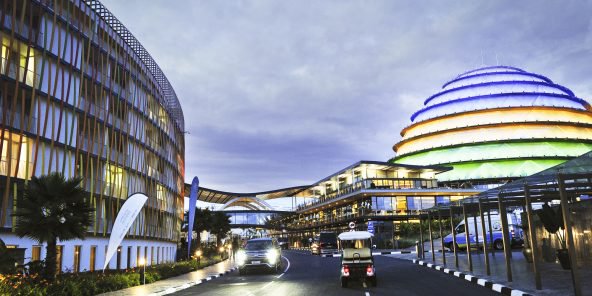 One Acre Fund, a nonprofit organization that supplies smallholder farmers in East Africa with asset-based financing and agriculture training services is one of the firms that did well.
The Exchange has explored some of the investment opportunities in Rwanda, and below are some of the top investments you can make in the country in 2021.
Agriculture Sector
The agricultural sector is the backbone of the economy of most states, right? In Kenya, the agriculture sector contributes approximately 33 percent of the country's Gross Domestic Product (GDP).
Just like Kenya, agriculture is the primary economic sector for the people of Rwanda. It employs 90% of the workforce and contributes 35.9% of the GDP.
The sector is a success since manual labour is readily available in Rwanda. But skilled professionals are limited due to the county's tragic genocide.
In this sector, coffee and tea make up Rwanda's significant exports, accounting for a substantial part of the foreign exchange earnings.
The major markets for coffee exports being the US and Europe, while the primary market for tea export being the middle east and Pakistan. The sector also meets the national food needs.
In Rwanda, investment opportunities exist in the following agricultural sectors: Dairy, Poultry, farming, aquaculture, mechanization, crop sourcing, block chain, agro-tourism, manufacturing of agriculture equipment, and cold chain logistics.
Banking sector
The Exchange can confidently report that Rwanda's banking and financial sector are small.
This is because less than 20% of the country's adult population has access to financial services or has a bank account. Nevertheless, the industry has made great strides towards modernizing its services.
The industry is stable, well-capitalized, profitable, and liquid. The sub-sector consists of the Central bank, commercial banks, and the Development Bank of Rwanda.
The major obstacle you will face as an investor in the banking sector is the limited access to credit, the high-interest rates on loans and most loans are short-term.
However, there is a number of investment opportunities in the banking sector which you should consider.
Agriculture financing
In this sector, you can introduce innovations or products to improve value chains with the agriculture sector.
Real estate investment trust
The real estate investment trust presents an opportunity for Rwanda.
Market, especially financing and supply options for affordable housing, hotels, shopping malls, and offices.
SME financing
Small and Medium Enterprises are the leaders of job creation and economic development in Rwanda. If these enterprises' business environment is improved, they can become more profitable, increase in size, and tap into regional and global markets.
This untapped potential offers investment opportunities to the Financial institutions experienced in SME financings such as private equity and venture capital funds to increase finance access for this enterprise category.
International bank representative office
International banks can establish a representative office in Rwanda by adopting a low-risk amplification route into the Rwanda market. An International bank represented in Rwanda will support large projects initiated by both government and private sectors. Then, present opportunities that range from Trade Finance, investment management, corporate structuring, corporate finance, Treasury and Pension Fund Management, and asset finance for the representative bank office to introduce to the broader bank group.
The energy sector in Rwanda is still developing. Over 80% of its energy is always sourced from wood or in its processed form: Charcoal.
This form of energy is used mainly by households. The high use and demand of it have led to the deficit of wood for domestic life and economic activities. Rwanda, for now, faces substantial electricity problems, therefore, providing you with investment opportunities in the Rwandan energy sector.
A sustainable energy source's high need pushed the government to create investment opportunities in the energy sector, including installing standalone solar systems for households and Mini-grid systems' structures from various resources, solar, hydropower, and biomass.
Telecommunication and ICT sector
The government of Rwanda has made ICT a high priority sector and has granted licenses to foreign investors such as MTN and Tigo Rwanda. The investors have been instrumental in the government strategy to develop a knowledge of the economy to facilitate business in general.
Rwanda's ambition to become a regional hub in capacity building in ICT has made the government invest in developing ICT infrastructure to enable service delivery.
Investment opportunities in the ICT sector include software development, software R&D, cloud computing, E-governance, ICT education and training, business process outsourcing, ICT business financing, and IT consulting.
Mining sector
Rwanda's mining sector recently increased, and export earnings reached US$225 in 2014. The essential minerals mined are Tin stone, tantalite (Colten), wolfram, and small reserves of gold. The leading players in the mining industry are private sectors and small-scale artisanal miners.
The Government of Rwanda recognizes the private sector as a leader in economic development and wealth creation. Therefore, privatization is one of the critical factors in the government's economic reform and reconstruction efforts. The government's decision to privatize mineral concessions has also seen the entry of several prominent players, mostly from international companies, into the mining sector, both in exploration and exploitation.
Also Read: President Kenyatta proposes KQ-South African Airways commercial partnership
The exploration opportunity was made possible by the government of Rwanda investment in exploration works in prospective target areas to generate valuable geology data to be used by mineral exploration companies. The companies carry on intensive, up to date and detailed mineral exploration. The exploration purpose is to allow the delineation and quantification of the mineral resources.
According to Rwanda mining Laws, the opportunity to exploit the minerals is not limited to companies but extended to capable individuals with proven technical expertise and financial capacity. The law grants the right to use three mines; artisanal, small scale, and large-scale mines. Holders of mining and mineral trading licenses and owners of smelting and screening companies trade the exploited mineral substances.
The good news is that trading in minerals such as Niobium and tantalite must contain at least 30% value-added. Precious minerals such as gemstones are explored and exploited at low levels. Consequently, this creates opportunities to set up cutting and polishing rocks.
Tourism sector
The tourism sector in Rwanda operates under a developed strategy that focuses on high-end eco-tourism. The industry proposed projects to enhance their tourism experience by creating high-value and low environmental impact experience for eco-travellers, explorers, and business travellers.
Also Read: How Africa can reignite industrialisation using technology
The projects include cultural tourism infrastructure projects, vacation villages, hotels, eco-lodges, and resorts. The projects provide an investment opportunity, and Rwanda invites private investments into developing the sector.
AFSIC
To explore more investment opportunities in Rwanda, AFSIC, the largest annual event bringing together African investors and investments taking place outside Africa will be hosting an Africa investment forum in London from 11th-12th October 21.
Networking and focused meetings at AFSIC provide you with an unparalleled opportunity to discover and develop a robust network of the highest quality of African business leaders
To help you explore more opportunities, Aly Ramji, the managing editor at The Exchange will be giving a discussion on Investing in Rwanda on 11th October 2021 from 11am.