The African Continental Free Trade Area (AfCFTA) is envisioned as a pact that will allow the continent to have a prosperous and sustainable future.
With far-reaching effects on many economic sectors on the continent, the trade pact is a tremendous opportunity not only for turbo-charging development but also for the creation of regional public goods and especially infrastructure.
The AfCFTA was operationalised on January 1, 2021, after several months of delay due to the Covid-19 pandemic.
According to the Centurion Law Group (CLG), the AfCFTA will in effect greatly impact the energy industry in the region given that it allows African countries to trade in energy products which will attract more investors and sequentially boost the African economy. The group notes that in the sense of a wider energy transition, there may be a fruitful basis for regional cooperation in promoting renewable energy production.
In the years to come, these fundamental patterns and themes will play an important role in shaping the African energy market, adds the group.
The CLG points out that the AfCFTA's impact on the energy industry in Africa will be far-reaching.
Trade in the energy sector in Africa will be more lucrative to foreign and local investors if they identify that energy trading within the African continent is a low cost and high return venture less expensive but with high returns.
The group adds that the AfCFTA's removal of the non-tariff barrier is a great initiative that will impact the energy sector in Africa significantly. The removal of trade barriers assures to not only improving efficiency, enhancing competition, and incentivizing the development of strategic solutions to local challenges through regional economies of scale, but essentially advancing the efficacy of resource allocation.
Notably, improved energy trade and energy integration initiatives will boost economic development in Africa by reducing transaction costs and enabling market and economic collaboration hence attracting more investors.
The AfCFTA will allow African countries to open their energy markets to one another and develop regulatory frameworks in this sector. Africa being a producer and a marketer of energy both within the continent and outside creates a more rapidly growing market such that investors will have more incentives to develop larger investments in Africa.
Cooperation between African countries in terms of energy provides opportunities not just for scale, but also energy diversification.
The group adds that African countries will be able to focus on their competitive advantage in alternative types of energy sources, such as hydro, geothermal and solar while enabling cooperation in other sources such as fuel oil, gas, and even nuclear sources of energy.
Such diversification of sources for energy production, notes the CLG, is important for building Africa's resilience to the shocks of climate change.
Worth noting is that a more diversified portfolio of energy supplies can help mitigate the increasing prevalence and severity of climate change events that impact energy supply. According to research conducted by the African Development bank in 2014, only 16 per cent of international trade occurs between African countries.
One of the fundamental problems in the region is not the availability of fuel but rather the African continent's ability to utilise the same in a way that meaningfully contributes to regional socio-economic development.
Regional cooperation in support of trading in energy in Africa has a significant role to play in shaping the Energy Industry in Africa.
The AfCFTA provides an opportunity for businesses to expand into African markets through the liberalization of markets and the progressive reduction of access barriers within the continent.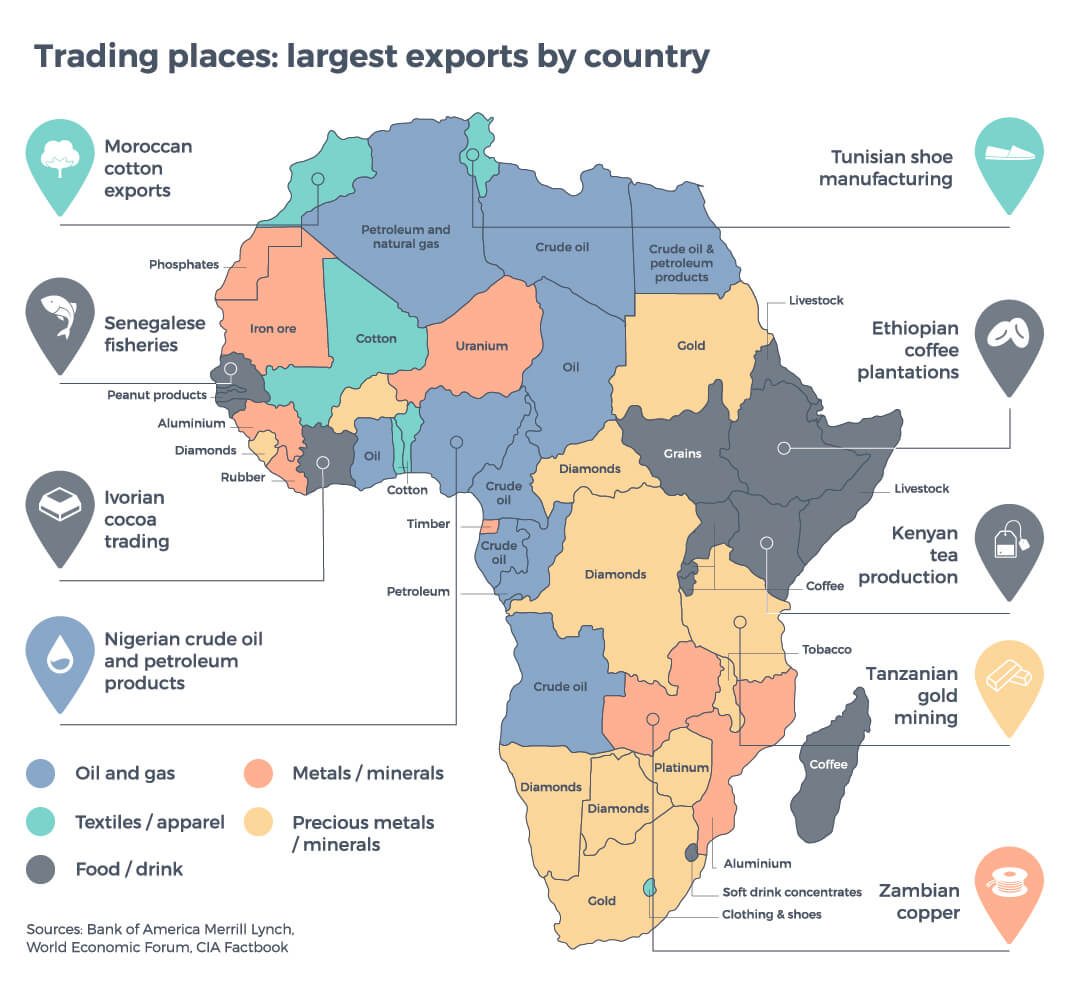 In addition, businesses can take advantage and participate in supporting the diversification of African economies away from low-value-added products and commodities as well as in the development of regional value chains.
The AfCFTA enhances competitiveness at the industry and enterprise level through exploitation of opportunities for scale production, continental market access and better reallocation of resources.
With regional integration, there is an increase in profit margins since energy-related regional integration is a feasible option for emerging economies to improve their energy landscape to achieve social, environmental, and economic benefits. To ensure that energy resources come from locations where they are most economical and where they are needed, regional integration is essential.
CLG notes that unparalleled success in the energy sector can only be achieved by eliminating impediments imposed on international oil and natural gas producers, fostering a pro‐export environment, and maintaining a level playing field among industry sectors by reducing trade barriers that distort the market and raise costs to consumers as believed by the American Petroleum Institute
Additionally, regional convergence is expected to boost supply security based on the AfCFTA. Integrating operating reserves and installed capacity allows for the investment of combined power systems in additional facilities. CLG says that regional cooperation offers an alternate source of supply and funding for operational reserves in the case of emergencies.
By expanding the supply portfolio of diverse energy resources, sharing with neighbouring countries will provide advanced system versatility and reliability, as opposed to relying solely on regional and developed resources and supply infrastructure.
African governments, therefore, need to proactively work to increase electricity access, provide clean cooking solutions, and pursue inclusive renewable energy production to close the continent's current energy infrastructure deficit.
The trade agreement provides a completely new forum for regional extension of the efforts and for the pursuit of energy production to reduce infrastructure restrictions.
One of the main expected outcomes of the agreement, for example, is the acceleration of industrial production, which will be relatively dependent on the availability, affordability, and protection of energy supplies on an industrial growth scale. Improved policies for energy exchange and energy integration would improve Africa's economic growth by reducing transaction costs and allowing business and economic cooperation, thus dramatically accelerating investment incentives.
CLG points out that this free movement of trade in Africa will allow governments to develop and expand the infrastructure in the energy industry. It is noteworthy that it is only with the development and expansion of supporting infrastructure can the practical difficulties of trading across African borders be resolved.
In other words, whether or not the implementation of AfCFTA would succeed or fail would depend on the growth and investment arena of regional infrastructure.
It is therefore expedient to note that attention be given to enabling infrastructure which is not just physical, but also digital and legal to further enhance the system.
The group adds that the abundance of renewable energy options in Africa provides a significant catalyst for electricity's regional integration. Progress and mobilization of such clean renewable energy sources would boost the quality of the atmosphere for the people of the continent through regional cooperation activities.
It is necessary to fix energy efficiency concerns quickly and comprehensively. In terms of energy resources, the African continent has near-limitless supplies of renewable energy resources, including solar irradiation, hydropower potential, and geothermal power potential, and wind resources. Africa has to examine how best to use these energy resources both locally and regionally to drive growth.
If the trade agreement is successfully implemented, it is set to have a profound effect on the energy market of the continent. It also simultaneously offers unique opportunities to realise the United Nations 'Sustainable Development Goals in a new development model for the future.